Over 75 years of flying in Galway
2021 was an exciting year in the history of Irish aviation: Galway Flying Club celebrated 75 years! We are the longest-operating flying club in the country.
The Club was established in 1946, and was originally based in Oranmore. In 1974 it was invited to move to Galway Airport at Carnmore by the then-owners, and has been operating there ever since.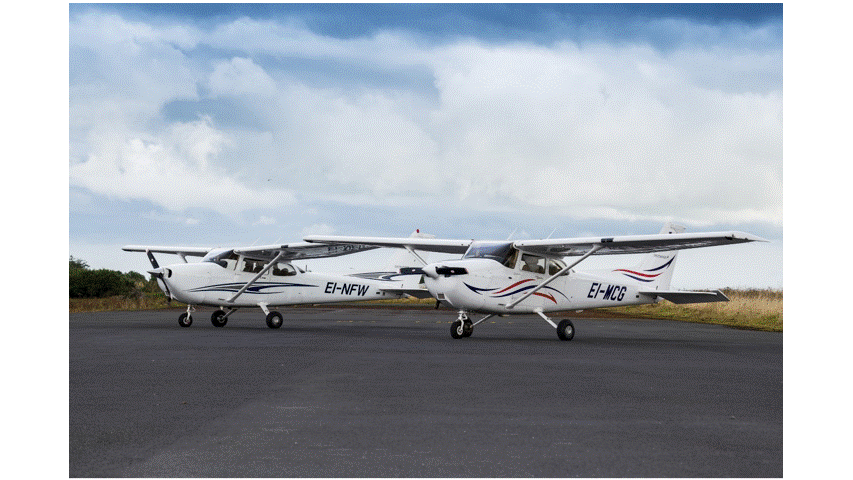 Galway Flying Club is made up of c. 100 members from all walks of life who share a common bond in their love of aviation. We operate two modern 4-seater Cessna aircraft. We are not a professional flight school, but rather a flying club with an incredible voluntary ethos. The Club is blessed with enthusiastic members from Galway and surrounding counties who commit much to the Club and to supporting the local community.
Galwegians often see our planes pottering about in the sky and wish they were up there. Indeed, it is a magical way to see Galway and the rest of Ireland. Behind the scenes, however, there is much that goes on, all on a voluntary basis. The Club provides training up to Private Pilot Licence level; more recently it was awarded ATO (Approved Training Organisation) status by the IAA (Irish Aviation Authority), allowing it to train pilots to the level of Flight Instructor.
Galway Flying Club's status as an ATO – one of just a few in the country – is testament to the quality of the Club's instructors and the systems and procedures they implement. The success of the Club is recognised on a national platform, having twice been awarded the General & Sport Aviation Award by the aviation industry. Most recently, RTE's Nationwide has completed filming the story of Galway Flying Club, which is due to air early next year.
Due to the present Covid situation, we are unable to celebrate this achievement as we would wish. However, we hope to be in a position to mark the occasion at a more suitable time in the coming months.
Galway Flying Club continues to keep the dream of flight alive in Galway
---
Galway Flying Club, located at Galway Airport, was founded over 75 years ago with the aim of bringing flying enthusiasts together and continues to facilitate its members in the pursuit of flying as a leisure activity.
Like any club, the Flying Club survives by all club members giving their personal time to undertake the many administrative duties, flying instructing and maintenance tasks.
The club has a dedicated team of instructors who give up their free time to pass their knowledge and skills on to student pilots. This normally happens at the weekends and the evenings during the summer if instructors are available.
The slower pace of learning to fly is a lot less stressful and more enjoyable as new pilots progress along the course.
It should be emphasized we are not a Flying School nor do we provide aircraft for hour building. Our aircraft are to be only used by club members fully trained under the instruction of our own instructors. If you are looking to have a career in aviation a better route is to apply to Flying Schools in Dublin, Waterford and Cork.
View this video to see what the club is all about
Galway Flying Club holds an Approved Training Organisation (ATO) with the Irish Aviation Authority (IAA) that trains pilots to European Union Aviation Safety Agency (EASA) standards. We have over 100 members (40% of which are people learning to fly) and 7 qualified instructors who provide training in a voluntary capacity to members wishing to obtain their Light Aircraft Pilot Licence (LAPL).